40 Acre Oceanfront Property on Beautiful Chetumal Bay,
in Northern Belize, near Chetumal, Mexico
Forty acres of cleared, seafront land, with 680 ft of ocean frontage on pristine Chetumal Bay. White sand beach and crystal blue water. Excellent road access from the nearby, picturesque fishing village of  Copperbank Village. This area is growing in popularity because of northern Belize's perfect climate: dry & sunny, with no mosquitoes or sandflies. Easy to subdivide, the surveys are done for all 12 lots, with the 6 seafront lots nicely cleared. Close to Orchid Bay Resort, and near the mouth of the New River, this is a very popular area for North American and European retirees and tourists.
Ideal for Seaside Estate or Beachfront Development
Enjoy a cup of coffee and a beautiful sunrise on your seafront property ~ at the mouth of Laguna Seca that flows into Chetumal Bay. The wide sea front is cleared, and the balance acreage is level, well-drained, with dry fertile land and good elevation. It is located directly across from the Orchid Bay Resort and all within 4G cell phone coverage. It is only a little over 1 mile to the grid power lines from Copperbank Village.
12 lots have been surveyed and just need final paperwork for subdivision approval (6-100′ x 300′ lots on the sea and 6-100′ x 200′ sea view lots) ~ or you can create your own plan! Protected from rough weather by Ambergris Caye in the east, this area is a relatively safe harborage and has a fairly "hurricane-free" history.
There is good road access from the nearby picturesque fishing village of Copperbank and it is near the famous Cerros Mayan ruins. Copperbank has been suggested as the site of a lost Mayan town, Uatibal, and several artifacts have been found in the vicinity.
Shopping, restaurants, and other necessities are just a short ride to Corozal over the New River via a hand-cranked ferry. Head to the border to the city of Chetumal, the capital of Quintana Roo Mexico, for even more shopping and restaurants as well as movie theaters, medical facilities, and free-zone casinos. If you prefer, take your boat to Chetumal Bay, which is home to "Grand Slam" fishing including bonefish, tarpon, permit, snook, snapper, jack, barracuda, and cobia, among others.
Priced to sell, at $360,000
Owner Financing Available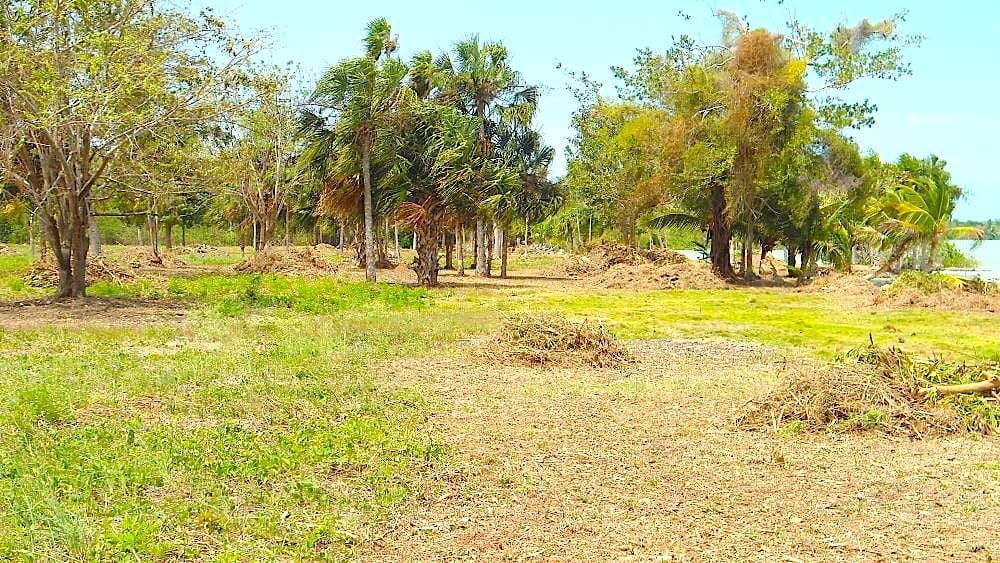 Characterized by clear-blue water & white sand, Belize's popular Chetumal Bay, is home to "Grand Slam" fishing, with bonefish, tarpon, permit, snook, snapper, jack, barracuda, cobia, etc etc. Chetumal Bay is part of the Caribbean Sea. It touches Belize's popular Ambergris Caye on the east, goes up beyond Chetumal, Mexico to the north, with Belize's mainland beach to its south & west. The acreage is level and cleared, well-drained with good elevation. Within 4G cellphone coverage, this property is 1 mi. from grid power lines, and has good public road access. It is close to shopping and restaurants in Corozol by road and boat, and just across the bay by boat to Chetumal, Mexico. The iconic "Pueblo Nuevo" ferry crosses New River nearby, to Orchid Bay.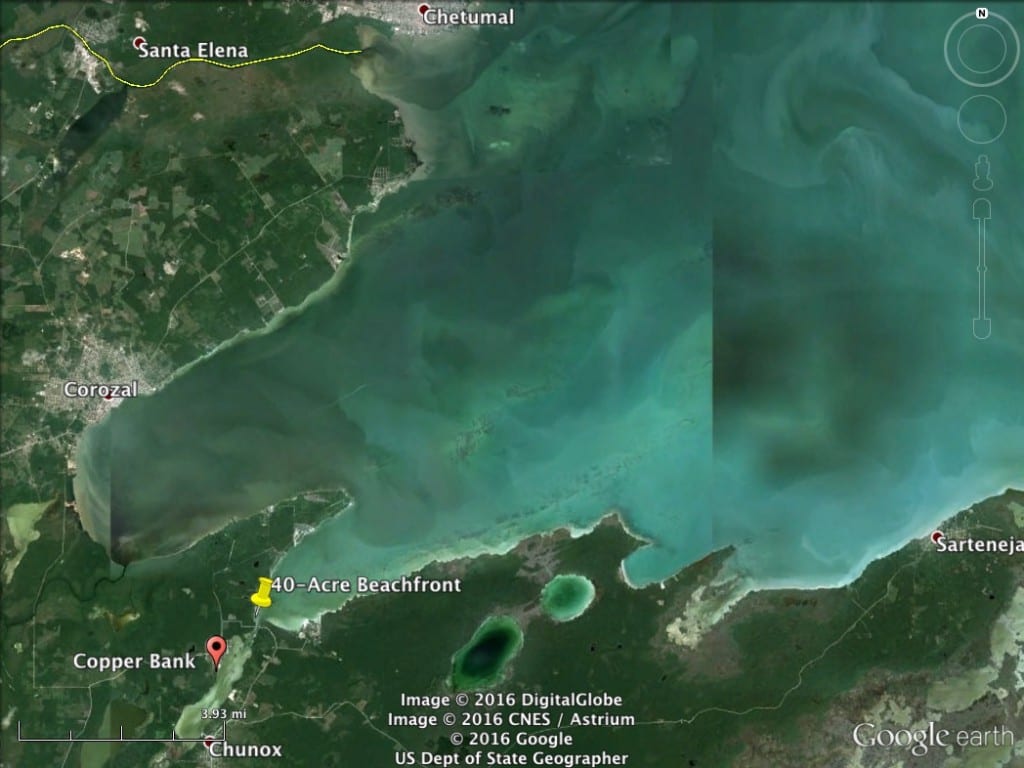 Oceanfront land is one of the best long- or short-term investments. In the 20th and 21st centuries, property values of oceanfront land in Belize have constantly been appreciating, year after year. This is free-hold title property, and in this English-speaking safe haven, foreigners can own title to oceanfront property.
This property is capable of title warranty by the major title companies
Contact us for more information, and about local building costs of luxury homes, roads, and swimming pools.