A 125 Acre, Ocean-Access Safe Haven
with Two Homes & Docks
on Belize's Exotic Western Lagoon.
These two self-sufficient, solar-powered homes in a spectacular seaside-lagoon setting offer water sports and tropical relaxation. The docks have easy boat access to the Caribbean Sea ~ and to a vast network of seaside lagoons, jungle rivers and waterways leading to Belize City and elsewhere.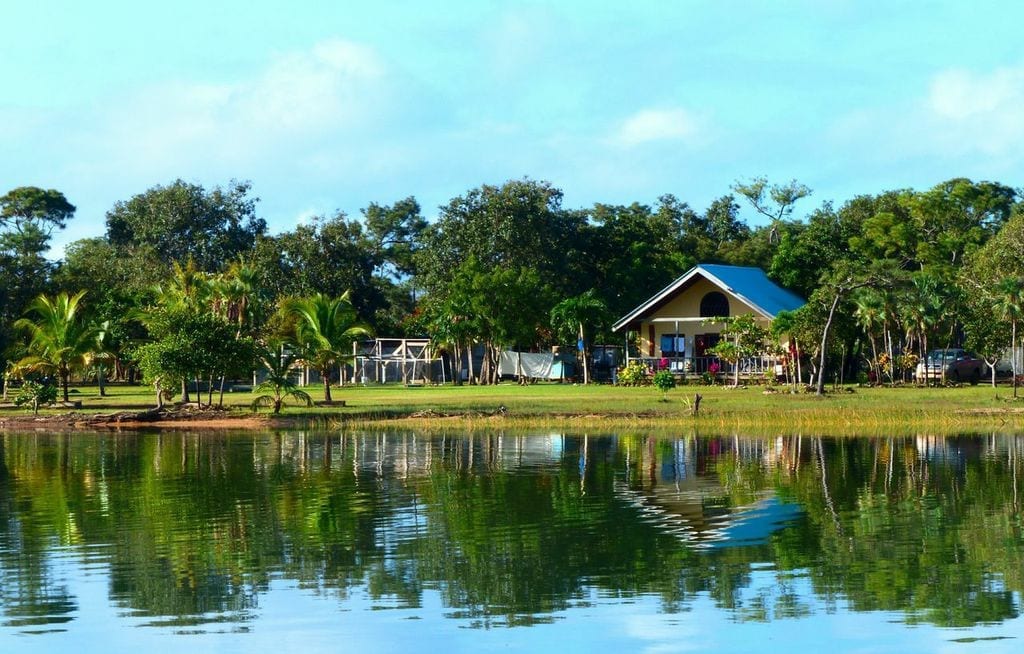 Nestled deep within a lush tropical setting of wildlife sanctuaries, open savanna and dramatic limestone hills of coastal Belize, it is only a 90-minute drive of the int'l airport. This is the ultimate retreat for privacy, scenic beauty and waterfront serenity. This property was planned by water-sports enthusiasts to take full advantage of its natural surroundings. It is perfect for boating, water skiing, sport fishing, canoeing, and kayaking.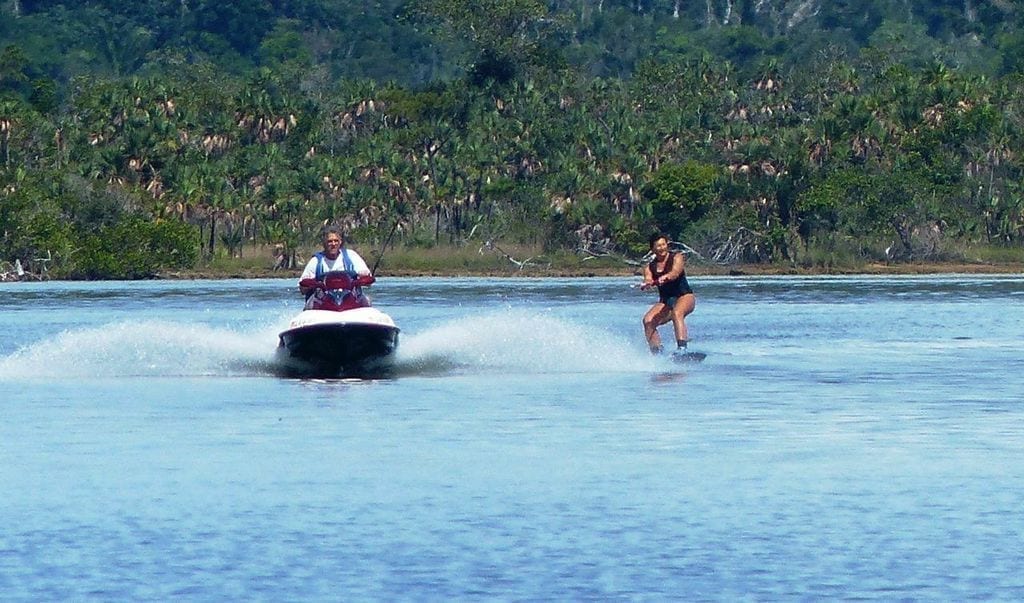 Open spaces offer panoramic views of the exotic mountains and the pristine estuary surrounding this property. Native hardwood and local stonework showcase the fine building materials and attention to detail. It has public road access to Belize's Coastal Highway. Fruit trees are on the property. Fenced and gated, it is totally private. On the grounds are two homes, a dock, a caretaker's quarters, water wells, rainwater catchment with large cisterns, and several outbuildings.
• Located 4 miles off Belize's Coastal Highway
• Private, Gated Entry into Fenced Residential Area
• House #1 is 900 sq ft
• House #2 is 1200 sq ft, with A/C and screened porch
• 1,000 ft Frontage on the Western Lagoon
• 160 ft Pier & 23 ft Dock, with Roof
• Caretaker's Cabin
• Fruit Grove & Vegetable Garden
• Chicken Coop
• Storage Container/ Workshop
• Solar Power System
• Rainwater Catchment & Water Well System
• Close to the New "Coconut Point" Resort / Luxury Development
• The Western Lagoon is Part of a 9,000-Acre IUCN Category IV Wildlife Sanctuary
The vast surrounding estuary area is known as the Gales Point Wildlife Sanctuary. It is an IUCN Category IV Wildlife Sanctuary, ecologically vital to the nearby coral reefs. It is an important Hawksbill Turtle nesting ground. It is a haven for a large population of West Indian Manatee. The surrounding forests and savanna host healthy populations of all Central America's wild animals, including tropical birds, parrots, jaguar, tapir and many more. Sport fishermen come from around the world to this area to catch tarpon, barracuda, permit, snook, jack, grouper, and others.
There is ample acreage to expand. It is well-suited for gardens, citrus, fruit and hardwood production, with acreage for additional residential development.
PRICE REDUCED TO $395,000
Contact us to Arrange a Visit.